S.O.M. Semmelweis Medical History Museum
(Semmelweis Orvostörténeti Múzeum, Könyvtár és Levéltár)

The Semmelweis Medical History Museum was opened in 1965. Its collection covers Hungarian medicine, pharmacy and medical system enriched by the objective relics of western medicine. The permanent exhibit is dedicated to the development of western medicine from the prehistoric age to the beginning of the 20th century with emphasis on the development of Hungarian medical system, the work of Semmelweis and the establishment of the modern Hungarian medication. Joined with the National Medical History Library and the Archives, S.O.M. is an important research basis of the Hungarian physician history.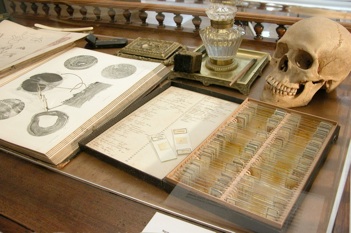 Museum Visiting Hours:

Summer hours (Mar 1 - Nov 2): Tuesday – Sunday 10:00-18:00

Winter hours (Nov 3 - Nov 29): Tuesday – Friday 10:00-16:00

Saturday, Sunday and public holidays 10:00-18:00

How to get there: Budapest, Apród u. 1-3, 1013, Hungary

Golden Eagle Pharmacy Museum

Summer hours (Mar 1 - Nov 2): Tuesday - Sunday 10:00-18:00

Winter hours (Nov 3 - Nov 29): Tuesday – Friday 10:00-16:00

Saturday, Sunday and public holidays 10:00-18:00

Pharmacy Museum Address: H-1014 Budapest, I. Tárnok u. 18, Hungary

Library and Archives

Library Main Building (Turkish street)

September - May

Monday: 9:00-19:00

Tuesday: 9:00-17:00

Wednesday: 9:00-19:00

Friday: 9:00-16:30

June - August

Monday: 9:00-17:00

Tuesday: 9:00-17:00

Wednesday: 9:00-17:00

Friday: 9:00-16:30

Joseph Ernyey Pharmacy History Library

(Advance appointment is required and upon availability)

Jan - May and Sept - Nov on Tuesdays 13:30-15:30

Archives (Advance appointment is required and upon availability)

Monday: 9:00-15:40

Tuesday: 9:00-15:40

Friday: 9:00-15:40

Library Address: H-1023 Budapest II., Török utca 12, Hungary