Jekabs Primanis Museum of Anatomy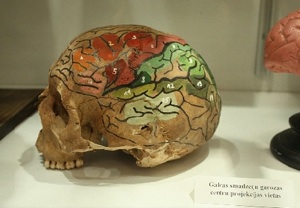 The Latvian Museum of Anatomy was established in 1920 as a training museum for the Institute of Anatomy at the University of Latvia. It was the first medical museum in the country, and its collection was based on that of its founder, Gastons Bakmanis (1883-1964). Over the course of time, the collection has been supplemented by employees of the Institute of Anatomy in terms of objects related to embryology, anatomy, pathology and comparative anatomy. An important segment of the collection is made up of bones found during archaeological digs in the 1920s and 1930s. Since July 1987, the Anatomy Museum has been a branch of the Pauls Stradiņš Museum of the History of Medicine. It attracts some 11,000 visitors each year for tours of the more than 5,000 exhibits that are featured there.
Anatomical exhibits are presented in two halls at the museum. One centres on normal and topographic anatomy, while the other offers a look at pathological anatomy. Of importance in the exhibition is the collection related to embryology, in particular looking at anomalies in infants which occur as the result of harmful habits of their parents. This offers visitors a chance to really think about how delicate the human body is.

Visiting Hours:

10am to 5pm Monday through Friday.

Admission:

pupils - € 0.43
students, seniors - € 0.71
adults - € 1.42

How to get there:

Kronvalda bulvāris 9

Rīga, LV - 1010

Latvija