Josephinum Collections of the Medical University of Vienna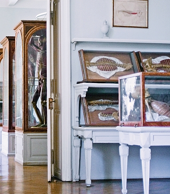 The famous collection of wax anatomical and obstetric models is the result of a personal initiative of Joseph II. Inspired by the wax models in "La Specola" in Florence, commissioned by his brother (the Grand Duke of Tuscany and later Emperor Leopold II), Joseph II ordered 1,192 models for the newly-founded academy in Vienna.
These were produced in Florence between 1784 and 1788 under the supervision of director Felice Fontana and anatomist Paolo Mascagni and eventually arrived in Vienna after a wearisome journey over the Alps. They were intended to serve on the one hand as visual aids for teaching, but on the other they were, even then, intended for the general public. The majority of the models survived to this day and they are exhibited in six rooms in their original rosewood and Venetian glass display cases.

Visiting Hours:

Wednesday 4 p.m.-8 p.m.

Friday-Saturday 10 a.m.-6 p.m.

Admission

€ 4.- adults
€ 2.- students, people on national or civilian service, OAPs)

€ 3.- members of clubwien.at

Museum is free for children and people up to 19

Free entry with NÖ Card and for Medical University Alumni club members

Guided Tours: applicable entrance fee plus € 3.-

In English: Saturday 11.00 a.m. (from Nov. 7)

History of Medicine Library Hours:

Monday – Thursday 10 a.m. – 4 p.m.
Friday 9 a.m.– 12 a.m.

Guided Tours Every Friday at 11 a.m. or by arrangement

How to get there:

Währinger Straße 25

1090 Vienna

Austria

5 minutes' walk from Schottentor (U-Bahn station U2) or tramway routes 37, 38, 40, 41, 42 to Schwarzspanierstraße (1 stop from Schottentor) or Sensengasse (2 stops from Schottentor)