Queen Square Library: Archives and Museum


The Queen Square Library is funded jointly by the UCL Institute of Neurology and the National Hospital for Neurology and Neurosurgery, and is the recognised specialist Library for Neurology within the University of London. The Queen Square Archives and Rare Books collections are housed in and managed by the Queen Square Library. The combination of the Library & Archive collections are a unique resource of international significance.

The National Hospital for Neurology and Neurosurgery has been described as the "cradle of British Neurology". It was founded in 1860, initially for the alleviation of epilepsy and paralysis. Its early physicians included John Hughlings Jackson, Sir David Ferrier, Sir William Gowers and Sir Victor Horsley. The National Hospital now forms part of the University College London Hospitals NHS Foundation Trust.

The Queen Square Library holds a unique collection of historical and rare books, journals and reprints. The Rare Book Collection extends to some 3000 volumes from 1695 onwards. Many of these were the personal copies of key figures in the history of neurology, neuroscience and neurosurgery.

The Queen Square Archives provides access to the historical records of the National Hospital of Neurology and Neurosurgery, and the Maida Vale Hospital. The archive collections include: an extensive collection of 1500 bound volumes of case notes covering the years 1863-1946 including many examples of early medical photography; extensive administrative records for the National Hospital from 1859 – 1948, including correspondence, minutes, financial records, staff records, plans and reports;  unpublished papers and lectures, and events ephemera; approximately 3000 photographs.

Artefacts which are on permanent display include an anatomical model from the 1850s; shell ornaments from 1850s made to raise funds to found the Hospital; Hughlings Jackson's chair and framed degree certificate; laboratory scales from Maida Vale Hospital; original paintings of the founders of the Hospital; a bust of Hughlings Jackson. Other artefacts held in the collection include framed photographs and paintings, medical equipment, plaques, certificates, medals and coins.

Queen Square Library staff and volunteers also curate regular displays using materials from the Queen Square Archives. The displays are dedicated to telling the story of the National Hospital and the Institute; and of the staff, students and patients who have been part of the history of the Square. You can visit the displays during Library opening hours to see the current exhibition in person or visit the compilations page on the archives website to view current and past exhibitions online.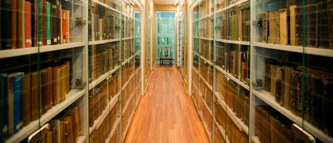 Visiting Hours:

To see the archives - by prior appointment during library opening hours (Monday-Friday 9:00-19:00)

To see the exhibits – during library opening hours

Admission:

Free

How to get there:

Queen Square Library, Archive & Museum

UCL Institute of Neurology & The National Hospital for Neurology & Neurosurgery (UCLH)

1st Floor, 23 Queen Square,

London WC1N 3BG