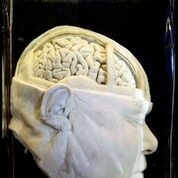 Museum Vrolik is the anatomical museum of the University of Amsterdam/Academic Medical Center. It was founded as a private collection by anatomist Gerard Vrolik (1775-1859) en his son Willem (1801-1863). The collection comprises around 15.000 anatomical preparations of both man and animals, normal, pathological and malformations, skulls, skeletons, bones, dried organs, preparations in liquid, microscopic slides, instruments.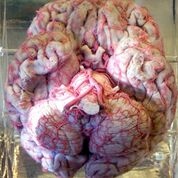 The historical core collection of the museum (brougt together between 1750 and 1950  includes specimens of neuroanatomy: topographical and regional anatomy of the brain & development of the fetal brain (both late 19th century and early 20th century), largely collected by anatomist Lodewijk Bolk; it also includes specimens of neural tube defects and other neurananatomical malformations (early 19th century & early 20th century)(mainly collected by father and son Vrolik and Lodewijk Bolk; finally it includes a small collection of comparative neuroanatomy (brains of different animals (early 19th century-early 20th century)
Since 2016 we are the owner of the historical collection of comparative neuroanatomy of the Dutch National Brain Institute. This collection consists of both specimens in liquid and microscopic slides, collected between 1909 and 1940 (By neuroanatomist C.U. Ariens Kappers)
Since 2017 we are the owner of the historical collection of comparative anatomy and zoology of the faculty of sciences (University of Amsterdam); this collection includes specimens of comparative neuroanatomy (brains of animals) collected between the 1880s and the 1940s, for a large part by zoologist Max Weber.

How to get there:

Academic Medical Center

Meibergdreef 15

Amsterdam 1105 AZ

Netherlands